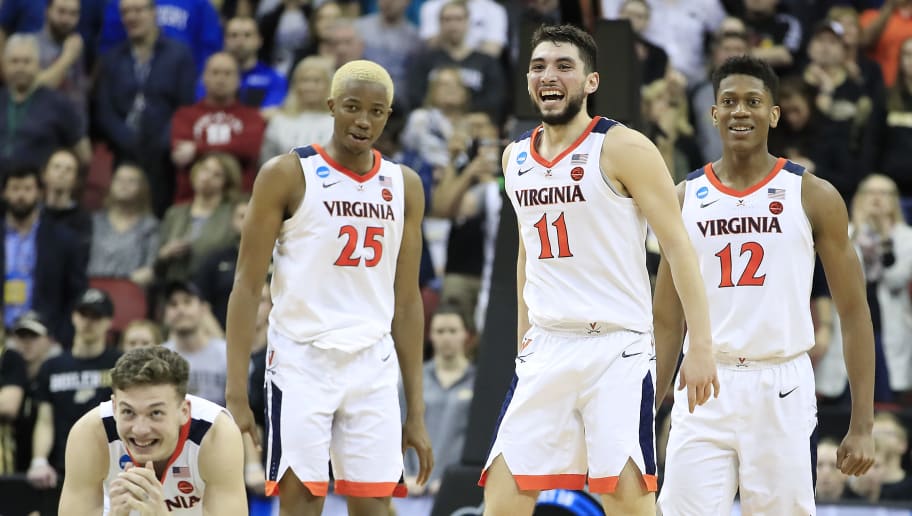 Positively giddy over the Virginia Cavaliers once-every-thirty-five-year-run to the Final Four, I cannot resist saying a little something about college hoops. You will likely think that I am forcing a pass into the low post here, but it really is my contention that you can learn more than a little about systems thinking by watching a game of Virginia Basketball. Specifically, on the defensive end, you will see a visual manifestation of a system in which the whole is greater than the sum of its parts.
Virginia runs, better than anyone else on the planet, a type of 'sagging' man-to-man defense known as the Pack Line, developed by legendary coach Dick Bennet, the father of current Virginia Coach (and legend in-the-making) Tony Bennet. Most man-to-man defenses are designed to limit ball movement and force turnovers with intense pressure both on and away from the ball. The idea is to lock up the ball handler and deny him clear passing lanes in order to force a bad pass or contested jump shot. In such a system, you are pretty much on an island with your designated man. If he beats your pressure, little help is to be found. Other players are locked up with their own men, denying the pass, and out of position to help their teammates. Offenses that can break on-ball pressure will find it easy to drive to the basket for a high-percentage shot.
Contrast this with the way Virginia plays defense: At all times, one defender pressures the player with the basketball while four defenders position themselves inside an imaginary line 16 feet from the rim (about 3-feet inside the 3-point line). This is the Pack Line. When the ball is passed around the perimeter, the next defender closes out with high hands to prevent the rhythm shot and then provides on-ball pressure while the defender who was playing on-ball defense falls back within the Pack Line.
The Pack Line forces players to influence ball handlers toward the middle of the floor, which is typically considered to be the most vulnerable part of a defense. But with the Pack Line, the middle is where the help is. Everything Virginia does defensively stems from this concept of middle help.
This system is vulnerable to the three-point shot, to be sure; but, because it allows for help, it is forgiving. The measure of its excellence is how well it recovers when breached at the point of attack.
There are not individual stats to measure your individual defensive performance the way you can on offense. How does one measure helpfulness? So, you need players to put aside individual ego and take pride in measures of overall team defense. Not everyone is willing to do this. You do not necessarily need McDonald's All Americans to implement the Pack Line successfully. You need smart, unselfish players with sufficient length, athleticism and willingness to help.
To bring it back to the social sector, for many years 'gap filling' was seen as a legitimate role for philanthropy to play; today, it seems like so many philanthropic actors would rather score points, so to speak. They want to be Duke. But we know that complex social challenges- like basketball- can be approached effectively in different ways.
Imagine philanthropy designed to help our social systems function more like Virginia's Pack Line, philanthropy that actively facilitates coordination among agencies and measures success in ways that reward organizations that help one another. This may very well mean funding small, nimble organizations led by men and women relatively devoid of ego. It may mean funding salaries, helping to pay such people what they are truly worth. It may mean funding the underdog. It may mean many smaller grants as opposed to a few 'big bets.' It will, certainly, mean long hours 'in the gym' getting to know your grantees and figuring out how they can compliment each other's play. And while it may not get you on the philanthropic equivalent of SportsCenter every night, a patient, gap-oriented philanthropic portfolio can yield immensely satisfying and impactful returns, especially for small family foundations with limited resources.
Go Hoos!